Performance Based Marketing
Choice Advertising
IMS' advertising programs begin with the same principle – we underwrite all of our marketing campaigns so our customers have zero financial risk. You can choose either Pay-For-Performance or Guaranteed Performance. Either way, your dealership has only upside potential, and IMS assumes the risk of an underperforming marketing campaign.
Choose The Best Program For You:
Pay-For-Performance ("Bird Dog")
IMS earns a commission based on the number of cars sold in a measurement period.
100% commission based fee
No deposits against future sales
*Not available in all states
Guaranteed Performace
IMS guarantees a number of cars sold in a measurement period or receive money back.
Co-op eligible
Flat fee structure
20,000 consumers

Standard Campaign Size, Data Permitting

65 days

Standard Campaign Length

Negotiate your own deals

We are not a broker

70% new customers

Typical perecentage of new customers generated

40 sales

Historical average of sales per campaign
InMarket Buyer Finder
The reason IMS is willing to fully underwrite all of our advertising campaigns is that we have absolute confidence in our proprietary algorithms that identify car buyers. We know which consumers are going to buy/lease a car in the next few weeks, and whether they are a domestic, import or luxury buyer.
Multi-Channel Bundle
The InMarket Buyer Finder also takes into account a consumer's likely propensity to respond to a particular advertisement. Is the consumer more likely to respond to direct mail, email, or digital advertising? IMS is not limited by a particular medium. Instead, we target each consumer in the way best suited to drive them to your dealership.
View sample campaign materials
Reputation, Lead Generation & UPs
At the end of the day, all a dealership has is its reputation in the community. IMS understands this, and we design marketing campaigns that safeguard your reputation.
The way our marketing works is this: we are marketing to the right people, at the right time, with the right message. We don't create carnival marketing campaigns with gimmicks like $20 gas cards. Instead, we treat your customers with respect and help them make an informed decision, so that they are comfortable doing business with your dealership, trust you, and believe they will be treated fairly.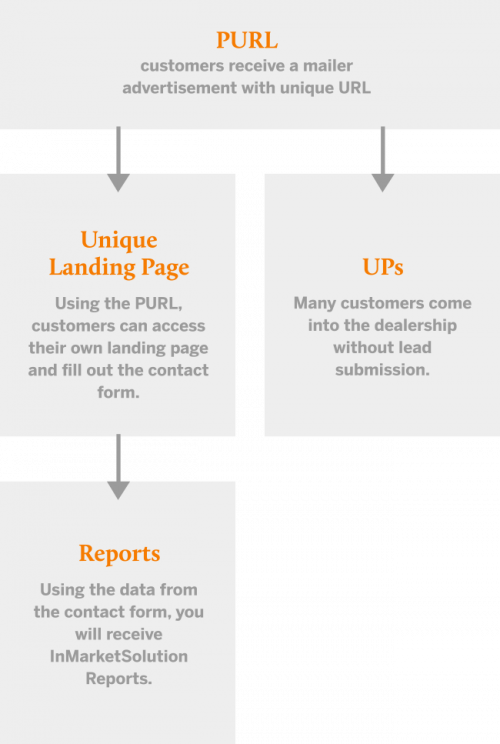 Sales Verification Process
IMS uses a third party service provider to identify and authenticate InMarket sales. In order to match sales, a dealership's sales data will need to be accessed for the sole purpose of matching to the InMarket manifest. We are 100% transparent in this process, and provide the entire manifest to the dealership up front.
All data is encrypted. IMS is Reynolds certified.